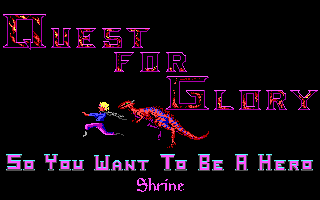 NEWS
February 12
I added the 'Basics' section.
Sections done: basics, character creation, cheats, items, spells, statistics & skills, VGA version.
Created and maintained by:


Please note that this site was based on the original EGA version of the game. There's also a VGA remake, which doesn't require you to type in your actions; it has a mouse-driven icon interface. But as the game is still mostly the same otherwise, this site should still be helpful to you if you're playing the VGA version. Be sure to check out the section about the VGA version in that case.
If you have any suggestions or corrections regarding this Shrine or questions regarding the game, feel free to e-mail me.
Quest For Glory: So You Want To Be A Hero © 1989

Sierra On-Line