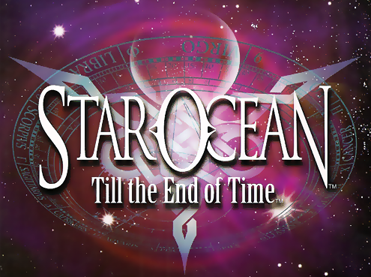 News
August 16, 2008
Finished the "Political Bodies/Place Terms" sections of both the Dictionary and the Terms pages. The dictionary entries themselves have yet to be added, but they will be on their own page shortly, followed by the other three sections of the Dictionary (People, Races, and Miscellaneous). The individual section pages may end up being divided up similarly to the Terms page, by subdivision (e.g. City, Planet), and then in alphabetical order.

March 4th, 2008
Started work on this shrine. Here's what's planned:
An introduction to Star Ocean 3/Till the End of Time, whether you've played the previous game(s) or not
A complete Who's who, of all the playable characters and important names and faces
Frequently Asked Questions
A complete accessories list
A complete Armor list
All the items
All the Valuables
All the Weapons
All about Anti-Attack Auras and how to use them
A list of all the battle trophies, when, where, and how to get them
How to make use of the Battle Bonus Gauge
All the bosses, when you'll face them, and strategies for defeating them
All the other enemies you'll be toasting until you get to the aforementioned bosses
Your Fury Gauge and how to use it
Skills
Spells a.k.a. Heraldry a.k.a. Runology a.k.a. Symbology a.k.a....
Status Ailments and Attack Effects
Tactics for Battle
Item Creation Basics
Inventors: where to find them, how to get them to make money for you, and what they can do
Talents, what they are, and who's the best of the best
Workshops, where they are and what you can do in them
Changes from the original Japanese game to the English (U.S.) release
The complete dictionary
Emotional Levels
All the endings and how to get them
Having fun in Gemity
Maps of everywhere, everywhen
Private Actions
Secrets from bonus dungeons to hidden storylines!
Strategies
And of course, a complete Walkthrough
The text in this document is licensed under the Creative Commons Attribution-NonCommercial-ShareAlike License. Anyone is free to use, copy, modify and re-distribute this work as long as they agree to the terms in the license.