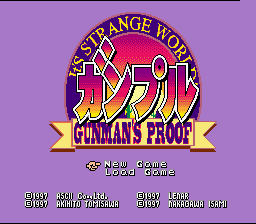 Welcome to the Gunple Shrine homepage, where you'll be able to find everything you are looking for this game.
Gunple, also known as Gunman's Proof is a funny game released in 1997 by ASCII Entertainment, this game can be considered as a clone of Legend of Zelda: A Link to the Past, as they have a lot of similarities on gameplay, but with a main theme based on the far west.
Updates
June 12, 2004: Added the 1st Part of the Walkthrough
---
Created and Maintained by:
Gunple: Gunman's Proof G © 1997

ASCII Entertainment


(c)2006 RPGClassics.com. All materials are copyrighted by their respective authors. All games mentioned in this site are copyrighted by their respective producers and publishers. No infringement on any existing copyright is intended. All rights reserved.