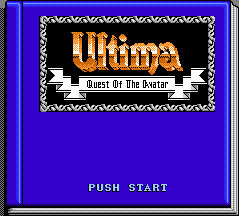 Shrine for the NES version of Ultima IV, otherwise known as Ultima: Quest of the Avatar (lookie at the picture *points up*). Use the links to the left to begin looking through the site for any & all information that you may need to know about this game. If you see anything that is incorrect or if you have any information that I do not have, you can email it to me and I'll at it to the site, as well as give you credit for it.
Shrine Created & Maintained By:
SabKnght
Ultima: Quest of the Avatar
Licensed by Nintendo of America Inc.
Original Version - © 1985 Origin Systems Inc.
NES Version - © 1990 FCI Inc.; © 1990 Ponycanyon Inc.
The text in this document is licensed under the Creative Commons Attribution-NonCommercial-ShareAlike License. Anyone is free to use, copy, modify and re-distribute this work as long as they agree to the terms in the license.