Site Navigation

•RPGClassics Main
•Contact Maintainer

Shrine Navigation
•Shrine Home
•Accesories
•Armor
•Basics & Tips
•Bosses
•Characters
•Cheats
•Downloads
•Enemies
•Items
•Manual
•Maps
•Mini Games
•Misc. Stuff
•Seeds
•Shopping
•Soundtrack
•Special Items
•Techniques/Spells
•Thanks
•Updates
•Walkthrough
•Weapons

Manual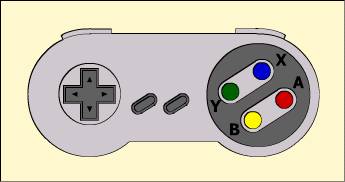 [D-Pad]:

Used to move the characters
Used to move the cursor on the menu screen

[A Button]:

Used to talk to the people and to search things
Used to choose commands on the menu screen
Used to attack in battles

[B Button]:

Used to run while pressed down
Used to cancel commands on the menu screen

[X Button]:

Used to display the menu screen in both battles and map
Used to choose commands on the menu screen

[Y Button]:

Used to display the menu screen in both battles and map

[L & R Buttons]:

Used to change the direction in battles
Used to change the character you are faced to
NOTES: On the World Map you can only move the characters.

There 2 ways of saving in the game:
Churches: Go to the churches you can find in several towns, and talk with the priests in there. You have 3 slots to choose where to save.

Record Statues: You can find these in dungeons.
To load a saved file just select the Continue option on the Title Screen.
Item Shop
Here you can buy from fight items to accesories

Restaurant
You can buy several healing items here

Armor Shop
Here you can buy equipment to protect your body from enemy attacks

Weapon Shop
Equipment for fighting mosters is sold here

Church
You can talk with the priest here to save your game or to raise your SP

Inn
For a few amount of money you can rest here to recover your HP and SP completely

Frog Casino
You can play several mini games and win prizes just using frogs here

Pub
Enter here just to talk with people and to play the piano.
Buy
Selecting the Item: You'll see the items offered in each shop on the ground. Go near them to see their price and effect. When you decide what to buy press the Action Button near it.

Buying: Now you only need to talk with the shopkeeper, he'll ask you if you are sure. If you accept he'll give you the choice of who will take each item.
In some towns there will be some people who sells you items at better prices.

Sale

Unlike other RPGs in THG you can't sell your items in the different Shops. In several towns you'll find a man wearing yellow hat and jacket and a white beard, you can sell items to him.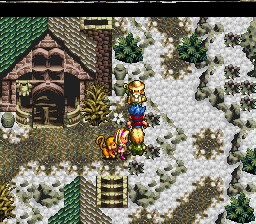 In some towns you'll find people willing to buy some items from you for good prices.
---
Next Page >>


(c)2006 RPGClassics.com. All materials are copyrighted by their respective authors. All games mentioned in this site are copyrighted by their respective producers and publishers. No infringement on any existing copyright is intended. All rights reserved.