Site Navigation
•RPGClassics Main

•Contact Maintainer
Shrine Navigation

•Home

•Bestiary

•Characters

•Equipment Sets

•Experience Chart

•Fuse List

•Item Attributes

•Item Listing

Arms

Swords

Axes

Spears

Bows

Flails

Rods

Knives

Claws

Body

Head

Hand

Accessories

Souls

Monster Cards

•Patch Codes

•Production Staff

•Secrets

•Walkthrough

Secrets
---
Name Codes
---
Secret Character
---
Item Mode
There might be an Item Mode accessible in the game, probably through hacking. The following text is my theory: Item, Weapon, Armor, Helm, Gloves, Accessory, Soul, Ore, Monster Card, Money, Add-ons, Monster, Attribute, Item Number, Category, Bonus.
---
The Original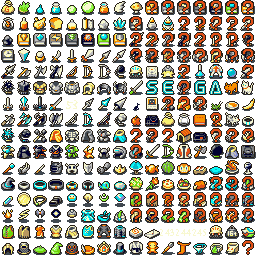 Some of the original "Shining Soul" item graphics are in the game but aren't actually used.


(c)2006 RPGClassics.com. All materials are copyrighted by their respective authors. All games mentioned in this site are copyrighted by their respective producers and publishers. No infringement on any existing copyright is intended. All rights reserved.